5G State-of-the-Industry Webinar Series: The 5G Mobile Era is Live




Date:

6/18/2019 10:00 a.m New York / 3:00 p.m London
Sponsors: Verizon, ECI, Zayo, A10 Networks
More information and registration

The 5G mobile era is officially here. In the second quarter of 2019 over half a dozen operators have launched 5G mobile networks to consumers and dozens more have progressed their plans to launch in the year to ahead. In this webinar Heavy Reading Principal Analyst Gabriel Brown will bring the audience up to speed on 5G progress worldwide and lead a discussion on how 5G mobile is driving the pace of change in service experience and network technology.
SCTE.ISBE Live Learning Webinar Series: Adopting Cloud Computing




Date:

6/20/2019 11:00 a.m. New York / 4:00 p.m London
Sponsors: SCTE, RedHat, Intel
More information and registration

Like other network providers, cable operators are looking to leverage cloud computing to offer various hardware-based products as software-based services, including both residential and business services. Operators are taking this route to improve the customer experience, bring new services to market quicker, scale them easier and reduce costs, among other things. But getting started can seem daunting. In this session, we'll explore how operators can begin putting cloud computing to work.
Mobile Operators are the Key to Making Edge Real




Date:

6/20/2019 12:00 p.m New York / 5:00 p.m London
Sponsors: MobiledgeX
More information and registration

We have all heard the promises of mobile edge computing: 100X speed, extreme low latency, unlimited scaling. But what is the current mindset of operators today? While strategies for edge enablement are often masked under 5G evolution planning, the truth is that edge-enabled networks can unlock new features and capabilities now and are exponentially enhanced by the adoption of 5G.

Years of research have helped to identify use cases where application owners believe edge functionality is needed. We're sharing this research for the first time to explore where, when and how operators play a critical role in bringing the next generation of end-user experiences to the world through the power of the mobile edge.

Join us as we discuss the current state of the edge, enabling the future state of hybrid networks, and the industry need for edge-enabled capabilities.

Key topics include:
Operator "State of the Edge" today
A sound approach to vertical adoption
Current industry use cases
How Cable Can Profit From the New Video Streaming Wars




Date:

6/26/2019 11.00 a.m. New York / 4.00 p.m. London
Sponsors: Espial
More information and registration

Led by Apple, Disney and AT&T, some of the world's largest media companies have entered or are now entering the booming streaming video space. For existing streaming providers, this will make the streaming space riskier and messier. For consumers, it may mean needing to subscribe to every streaming service they want separately. All of this may end up jeopardizing the biggest benefits of streaming video – namely, the superior user experience and lower costs of OTT.

But there may be a silver lining for cable here. Light Reading and Espial invite you to attend a webinar focused on the potential advantages that the increasingly crowded streaming space may offer for cable operators. This webinar will bring in industry leaders to discuss the new avenues and new ways that operators can reinvent their business models and services to make a profitable comeback in the streaming video market. Michael McCluskey from Espial, Candice Mayberry Storsveen from HBC and Alan Breznick will participate in a panel-style discussion to provide their valuable perspective on this topic.

Taking place on June 26 at 11 a.m. EST the webinar will cover:
The existing OTT video landscape and current cable ecosystem
A summary of key action items for pay-TV operators
A panel discussion to explore new business models and technology considerations
NCTC Webinar Series: Playing Smart in the Smart Home Market




Date:

6/27/2019 11:00 am New York / 4:00 pm London
Sponsors: NCTC, Plume
More information and registration

As the battle for the smart home intensifies with services decoupling from the broadband 'pipe' and as new entrants compete over-the-top, this webinar will address the key issues that service providers are facing, and the strategies and technologies that they are adopting to stay ahead.

We'll look at the prime factors causing today's Wi-Fi home networking bottleneck:
Growth of IOT devices in the home
Increased congestion
Security threats
Lack of support tools
We'll focus on key technologies that are being deployed to address home networking issues:
Artificial Intelligence
Cloud
Wi-Fi 6
Predictive maintenance and support tools
We'll then explore how service providers can go beyond the home networking issue and leverage Wi-Fi as a platform to create a host of new services and boost ARPU, increase NPS and importantly, reduce churn.
The session will feature speakers from both North American (Armstrong) and European (Melita) service providers. Executives from both companies will explain their strategies, results and insights, designed to ensure that they play smart in the rapidly expanding smart home market.
Bracing for the 5G Era




Date:

7/18/2019 11:00 a.m. New York / 4:00 p.m London
Sponsors: SCTE, Red Hat
More information and registration

Seeking to stay ahead of aggressive rivals like AT&T, Verizon and T-Mobile, cable operators are busily upgrading their networks for multi-gigabit speeds, cloud-based IP video services and next-gen wireless services. But now, with the emergence of 5G technology, the big question is whether cablecos will be able to harness 5G to their advantage or find themselves fighting a rearguard action against it. In this session, we will tackle the opportunities and challenges that 5G presents for cable in an increasingly converged world and discuss how operators can make the most of it.
Do You Really Understand Your Subscriber Usage Patterns? Analytics to the Rescue!




Date:

7/23/2019 12.00 p.m New York / 5.00 p.m London
Sponsors: Ribbon
More information and registration

Globally, mobile data traffic grew around 60% last year and is expected to grow by a factor of four between 2018 and 2022. So how can operators leverage these massive amounts of data to their benefit?

With analytics, operators can leverage all that data to develop new business models that go beyond traditional connectivity. When harnessed effectively, analytics delivers new customer insights that help operators make smarter business decisions, reduce costs and improve operational efficiencies. Operators have only just begun to scratch the surface in terms of the lucrative business opportunities that data analytics presents.

In this webinar we will explore how big data analytics enables operators to proactively respond to changing network and market dynamics, such as:
Voice-over-LTE (VoLTE) and IMS network and subscriber performance metrics to discover end-to-end interoperability problems
Improving/Enabling self-care and reducing call-center contact
Identifying subscribers who have the potential to churn or move to a competitor
Distinguishing network, application and device issues associated with poor subscriber experience
Helping to optimize investment decisions for broadband, voice and IoT
Deploying Next Generation Passive Optical Networks




Date:

8/15/2019 11:00 a.m. New York / 4:00 p.m London
Sponsors: SCTE, Corning, VIAVI Solutions
More information and registration

After getting off to a late start, the cable industry is now advancing in the software-defined networking (SDN) and network functions virtualization (NFV) space, even leading the way in virtualizing its access networks. But, while cablecos are beginning to virtualize such key network functions and hardware as firewalls, routers, set-top boxes and even CMTS chasses, they still have some way to go. In this session, we'll look at where cable stands in its cloud journey, what it should virtualize next and which challenges must still be overcome.
Bringing HDR video to Life




Date:

9/19/2019 11:00 a.m. New York / 4:00 p.m London
Sponsors: SCTE
More information and registration

In their drive to sell more 4K TVs, consumer electronics makers are embracing HDR, or High Dynamic Range, a technique that expands the range of both color and contrast significantly on a TV set. This technology makes images appear to have more depth and richness. But it puts even more bandwidth and compression demands on pay-TV providers. How can cable operators meet those demands? In this session, we'll look at what's possible.
Automating the Cable Network




Date:

10/17/2019 11:00 a.m. New York / 4:00 p.m London
Sponsors: SCTE, Red Hat
More information and registration

Like other network operators, cable providers are seeking to automate their networks for a variety of reasons, including simplifying network provisioning, scaling services more efficiently, gaining more insights into their customers and cutting operational costs. They are also looking to boost bandwidth utilization and service quality. But putting AI and automation to work is no easy task. In this session, we'll focus on where the industry stands with automation now and how operators can make strides.
Securing the Cable Network




Date:

11/14/2019 11:00 a.m. New York / 4:00 p.m London
Sponsors: SCTE, Red Hat
More information and registration

Wary of the increasing number of hacks into enterprise and consumer data networks, cable technologists are pursuing ways to protect their increasingly complex networks and their customers from cyber attacks. CableLabs, for instance, is developing a "Micronets" framework to safeguard the home network. In this session, experts from CableLabs and elsewhere will discuss what cable operators can do to keep the bad guys out.
Virtualizing the Cable Architecture




Date:

12/12/2019 11:00 a.m. New York / 4:00 p.m London
Sponsors: SCTE, Red Hat
More information and registration

While DOCSIS may never die, it's not the only transmission technology in cable's arsenal anymore. With the industry's growing emphasis on Fiber Deep and FTTH rollouts, cable operators are increasingly turning to EPON, 10G EPON and other PON flavors to move bits over their fiber-rich networks. Where does the industry stand with PON now? What kinds of trials, pilots and rollouts are happening? How will NG-PON get deployed? In this session, our experts will assess PON's prospects in the DOCSIS world.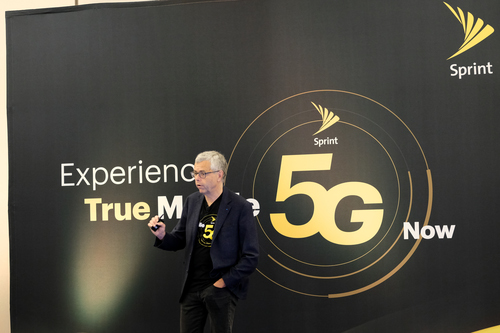 Scenes From Sprint's Big 5G Launch

More Slideshows