SCTE.ISBE Live Learning Webinar: Bracing for the 5G Era
Date / Time:
Thursday, July 18, 2019, 11:00 a.m. New York / 4:00 p.m London
Overview: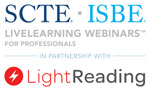 Speakers
Alan Breznick, Cable/Video Practice Leader - Light Reading

Chris Bastian, SVP, Engineering and CTO, SCTE•ISBE

Rob Wilmoth, Chief Architect, Service Provider Team, Red Hat North America

Shahed Mazumder, Principal Strategist, CableLabs

Dr. Vikram Saksena, Chief Solutions Architect, Office of the CTO – NetScout Systems
Seeking to stay ahead of aggressive rivals like AT&T, Verizon and T-Mobile, cable operators are busily upgrading their networks for multi-gigabit speeds, cloud-based IP video services and next-gen wireless services. But now, with the emergence of 5G technology, the big question is whether cablecos will be able to harness 5G to their advantage or find themselves fighting a rearguard action against it. In this session, we will tackle the opportunities and challenges that 5G presents for cable in an increasingly converged world and discuss how operators can make the most of it.
Alan Breznick, Cable/Video Practice Leader, Light Reading


Alan Breznick has tracked the media, telecommunications, broadband, and consumer electronics industries for more than 20 years. Before switching over to Heavy Reading in 2007, he was the original editor of Light Reading Cable Website and founding author of Heavy Reading's Cable Industry Insider. At Heavy Reading, he primarily focuses on cable/MSO services, technologies, and networks, as well as IPTV infrastructure. Alan was formerly a broadband analyst for Kinetic Strategies and a contributing analyst for One Touch Intelligence. He previously reported for Communications Daily, Cable World, Multichannel News, Broadband Daily, Crain's New York Business, and Genuine Article Press, among other publications.
close this window
Chris Bastian, SVP, Engineering and CTO, SCTE•ISBE


Chris Bastian joined SCTE•ISBE in 2015 following three decades of leadership in advanced cable and network security technologies. Chris is responsible for all areas of technology and engineering to ensure that SCTE and ISBE maintain a leadership role in standardizing and operationalizing advanced technology, including the SCTE•ISBE Standards Program and the SCTE•ISBE Engineering Committee – as well as groundbreaking efforts such as SCTE•ISBE's Energy 2020 program.

Prior to joining SCTE•ISBE, Chris spent 10 years with Comcast, where he served as senior director of converged regional area network engineering for the Comcast Network Engineering Group, executive director of network architecture for the Comcast Technology and Product Group and ultimately as executive director of Comcast's Xfinity WiFi network. Previously, he had held network operations and engineering positions with RCN and Comcast Cellular Communications, and had spent 10 years in engineering and leadership capacities with the National Security Agency.

Chris holds a B.S. in Electrical Engineering from Penn State University, an M.S. in Electrical Engineering from George Washington University and an M.S. in Technical Management from Johns Hopkins University.
close this window
Rob Wilmoth, Chief Architect, Service Provider Team, Red Hat North America

Rob Wilmoth is Chief Architect for the Red Hat North America Service provider team. He works closely with customers and partners advising and assisting with challenges ranging from regulatory compliance and general IT, to changing the way that they view their business problems in the network and content delivery spaces. He has been with Red Hat for eleven years in various Solutions Architecture roles supporting accounts including; AT&T, WarnerMedia, Charter Communications, Comcast, TIAA Bank, and the utility industry.

Rob is an Appalachian State Grad with bachelor's degrees in Business Administration and Information Systems.
close this window
Shahed Mazumder, Principal Strategist, CableLabs


As a principal strategist on the technology strategy team at CableLabs, Shahed Mazumder specializes in data driven strategic analysis and financial modeling to facilitate more informed decision making by cable executives. He is frequently involved in analysis requests coming from CableLabs members and in proactive analyses that can potentially impact the industry at large. Shahed's areas of expertise include wireless related topics such as 5G deployment economics in low/mid/high band spectrum, Total Cost of Ownership analysis of DOCSIS as a backhaul/fronthaul solution and spectrum strategy and evaluation. His work also spans across wireline, satellite broadband, network virtualization and IoT related topics.

Prior to joining CableLabs, Shahed worked as a strategy consultant at Cartesian, a Boston-based boutique strategy consulting firm focusing on the tech, media, and telecom sectors. At Cartesian, Shahed worked on a variety of projects ranging from technology due diligence to business case development and product strategy/competitive assessment. Before his career in consulting, Shahed was an engineer working in solution management and business development roles at Nokia Siemens Networks Japan and Alcatel-Lucent Japan (both are now part of Nokia Networks). Shahed also worked in the global IP VPN product management group of NTT Communications in Japan.

Shahed has a Master of Business Administration degree from MIT Sloan School of Management and he received his Master of Engineering and Bachelor of Engineering degrees in electrical engineering from the University of Tokyo, Japan. He speaks fluent Japanese and enthusiastically extends his support whenever any CableLabs initiative involves the Japanese market.
close this window
Dr. Vikram Saksena, Chief Solutions Architect, Office of the CTO – NetScout Systems


Dr. Saksena has been at the forefront of technology innovations in the wireless, Internet, cloud and data analytics industries. He has held senior leadership positions in a number of small and large companies. He began his career at AT&T in the early days of packet switching and made fundamental contributions that led to the commercialization of Frame Relay and Internet Protocol networks. He was named an "AT&T Fellow" in 1997 for his contributions to the growth of AT&T's data networking business. Subsequently, Vikram was part of the founding team of two start-up companies in the broadband area, MaxComm Technologies and Narad Networks. Later on he became the CTO of two public companies, Sonus Networks and Tellabs, where he led the technology strategy and development of new products in voice over IP, mobile backhaul, mobile packet core, mobile video, and mobile security areas. He was the Massachusetts Technology Leadership Council's "CTO of the Year" Finalist in 2008 for his contributions to Sonus's wireless business. At NetScout, Vikram is responsible for NFV/SDN/cloud strategy and solution architecture.
close this window