Date / Time:

Thursday, September 19, 2019, 11:00 a.m. New York / 4:00 p.m London
Overview: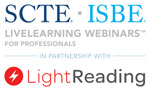 Speakers
In their drive to sell more 4K TVs, consumer electronics makers are embracing HDR, or High Dynamic Range, a technique that expands the range of both color and contrast significantly on a TV set. This technology makes images appear to have more depth and richness. But it puts even more bandwidth and compression demands on pay-TV providers. How can cable operators meet those demands? In this session, we'll look at what's possible.
Alan Breznick, Cable/Video Practice Leader, Light Reading


Alan Breznick has tracked the media, telecommunications, broadband, and consumer electronics industries for more than 20 years. Before switching over to Heavy Reading in 2007, he was the original editor of Light Reading Cable Website and founding author of Heavy Reading's Cable Industry Insider. At Heavy Reading, he primarily focuses on cable/MSO services, technologies, and networks, as well as IPTV infrastructure. Alan was formerly a broadband analyst for Kinetic Strategies and a contributing analyst for One Touch Intelligence. He previously reported for Communications Daily, Cable World, Multichannel News, Broadband Daily, Crain's New York Business, and Genuine Article Press, among other publications.
close this window
Thierry Fautier, Vice President, Video Strategy, Harmonic


As Vice President of Video Strategy at Harmonic (San Jose, CA, USA), Thierry Fautier is in charge of defining and driving the execution of the long-term strategy of Harmonic's video business. He is the current President of the Ultra HD Forum (Milpitas, CA, USA), the global organization responsible for promoting market adoption of UHD by defining industry best practices for the phased introduction of the wide set of technologies that will facilitate the next-generation viewing experience. He is a co-founder and board member the VR Industry Forum (Milpitas, CA, USA), whose charter is to further the widespread availability of high-quality audiovisual VR experiences, for the benefit of consumers. Fautier is also co-chair of the MPEG Roadmap committee that is tasked to present the 2020 MPEG roadmap to the industry.

His previous experience at Harmonic includes leadership positions in Solutions Marketing, where his area of responsibility covered Harmonic's major markets, including broadcast, cable, telco, DTH and OTT, as well as multiscreen initiatives. Thierry Fautier has been instrumental at Harmonic to create new markets such as IPTV, OTT, UHD and more recently VR. He is the designated speaker at Harmonic for international conferences as well as for press and analysts interviews.
close this window
Wayne Hickey, Advisor, Product Marketing - Ciena


Wayne Hickey is an advisor in Ciena's Portfolio Solutions Marketing team. He has extensive experience in virtualization, packet and optical networking technologies with ECI Telecom, APCON, Overture Networks and Cisco Systems where he held roles in product marketing, solutions marketing, product managing and systems engineering. He also held various positions with Aliant Telecom (Bell Aliant), the third-largest telecommunications provider in Canada.
close this window
Douglas Hague, Solutions Marketing CIVT – Viavi Solutions

Over 20 years of experience at Viavi Solutions and the companies within the Test and Measurement industry with over 16 years in the CATV arena and over 2 years in the Fiber optics arena, originally joining the company when it was Wavetek Doug has been part of the technical support, training, application engineering, solutions consulting, and marketing groups and is currently marketing manager for Viavi's Fiber field test solutions.
close this window
Sev Sadura, Director of Product Marketing – Clearfield

Sev Sadura has over 18 years of experience in telecom and data network markets. He's held product management and leadership positions at Pentair, Transition Networks, Allied Telesis and Entrust Datacard. Sev's focus is on innovation and how technology mitigates business risks and solves customer challenges.

close this window



Webinar Registration
To register for this webinar, please complete the form below. Take care to provide all required information (indicated in

red

). Press Register to complete your registration. If you have already registered for our site or for one of our webinars, you may login to register without re-entering your information.