Date / Time:

Thursday, August 15, 2019, 11:00 a.m. New York / 4:00 p.m London
Overview: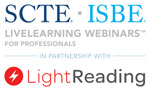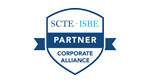 After getting off to a late start, the cable industry is now advancing in the software-defined networking (SDN) and network functions virtualization (NFV) space, even leading the way in virtualizing its access networks. But, while cablecos are beginning to virtualize such key network functions and hardware as firewalls, routers, set-top boxes and even CMTS chasses, they still have some way to go. In this session, we'll look at where cable stands in its cloud journey, what it should virtualize next and which challenges must still be overcome.
Speakers
Alan Breznick, Cable/Video Practice Leader - Light Reading

Steve Harris, Executive Director, Technical Sales, Learning & Development, SCTE/ISBE

Wolfgang Moench, Senior Product Line Manager Fiber Optics - VIAVI Solutions

Jason Morris, Marketing Manager, Corning Optical Communications
Alan Breznick, Cable/Video Practice Leader, Light Reading


Alan Breznick has tracked the media, telecommunications, broadband, and consumer electronics industries for more than 20 years. Before switching over to Heavy Reading in 2007, he was the original editor of Light Reading Cable Website and founding author of Heavy Reading's Cable Industry Insider. At Heavy Reading, he primarily focuses on cable/MSO services, technologies, and networks, as well as IPTV infrastructure. Alan was formerly a broadband analyst for Kinetic Strategies and a contributing analyst for One Touch Intelligence. He previously reported for Communications Daily, Cable World, Multichannel News, Broadband Daily, Crain's New York Business, and Genuine Article Press, among other publications.
close this window
Steve Harris, Executive Director, Technical Sales, Learning & Development, SCTE/ISBE


Steve is a respected international subject matter expert and thought leader in telecommunications, high technology and information technology systems engineering.

At SCTE•ISBE he is responsible for training content that can lead to increased revenue for cable system operators, resolution of business challenges and enhanced subscriber experiences. He has been integral to the development of ~800 modules of SCTE•ISBE training, as well as boot camps and certification programs for more than 100,000 telecommunication professionals.

SCTE•ISBE training supports the cable workforce in such areas as Fiber Deep, DAA, FTTx, DOCSIS, Wi-Fi, routing, switching, virtualization, cloud, IPv6, Ethernet, Business Services, Cybersecurity, MPEG, Linux, Critical Facilities, installation services, EPON and outside plant/HFC.

A holder of more than 40 industry and instructor certification, Steve has been a leader in conducting MSO IPv6 training; serves as lead instructor of the SCTE/ISBE and SMPTE Cisco Academy virtual classroom and works with international telecommunications companies to develop ADDIE-compliant career path and training programs.
close this window
Wolfgang Moench, Senior Product Line Manager Fiber Optics - VIAVI Solutions


Wolfgang Moench brings to VIAVI more than 30 years of experience in fiber optic test and measurement technology. He began his career at Wandel & Goltermann, where he held a position in R&D to develop optical power meters and laser sources. During his 10 years in R&D he was responsible for numerous unique and first to market test solutions. He then joined marketing department as a Business Development Manager at Wavetek Wandel & Goltermann, where he took care of worldwide sales support for fiber optic handheld instruments and OTDR's. Since 1997 he is working as a Product Line Manager for Fiber Optic field test solutions and optical spectrum analyzers at Acterna, JDSU and VIAVI.

Wolfgang holds a master's degree in electrical engineering from Technical University in Stuttgart, Germany. In his spare time, Wolfgang likes to mountain bike and ski.
close this window
Jason Morris, Marketing Manager, Corning Optical Communications


For the past eleven years, Jason Morris has been involved in industries at the forefront of technology. As a marketing manager for Corning Optical Communications, Jason is responsible for marketing strategy that includes being the subject matter expert on Corning products and industry standards.

Jason has a Bachelor of Geography, GIS specialization from the University of North Carolina at Charlotte and has been a member of SCTE since 2014.
close this window
Sev Sadura, Director of Product Marketing – Clearfield

Sev Sadura has over 18 years of experience in telecom and data network markets. He's held product management and leadership positions at Pentair, Transition Networks, Allied Telesis and Entrust Datacard. Sev's focus is on innovation and how technology mitigates business risks and solves customer challenges.

close this window



Webinar Archive Registration
To register for this webinar, please complete the form below. Take care to provide all required information (indicated in

red

). Press Register to complete your registration. If you have already registered for our site or for one of our webinars, you may login to register without re-entering your information.


March 16-18, 2020, Embassy Suites, Denver, Colorado

May 18-20, 2020, Irving Convention Center, Dallas, TX
All Upcoming Live Events