Federal Funds for Broadband? Unlikely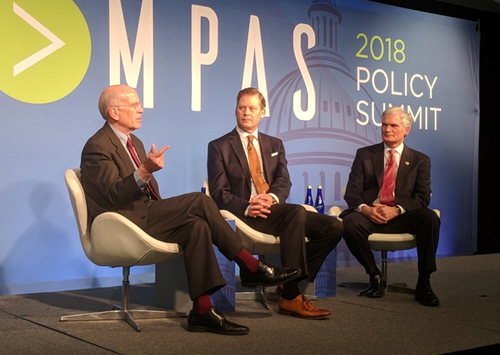 (16) |





Phil_Britt,

User Rank: Light Sabre
2/19/2018 | 1:25:46 PM
Re: Eat the dog food

While satellite broadband could be an infrastucture investment, old infrastructure like roads, bridges, water mains, etc., should be prioritized. Nowhere near enough investment has gone into these in more than 30 years.

Re: Eat the dog food

Dennis,



I heard those low orbit satellites will be feeding balloons from Google that are in turn connecting to Amazon Drones.

seven



Re: Eat the dog food

Iridium was a fine program. John McCain told me so. And Mr. Pai will back this initiative heartily as part of Make America Infrastructure Again. And all the Star Trekkers will love it because Elon Musk. Problem solved.


Re: Eat the dog food

Maybe.

I was up close and personal with the Iridium program. Need I say more?

Re: Eat the dog food

It looks like spaceboy Elon Musk is going to make a run at the LEO communications satellite thing. So maybe there will be better (or at least other) options for the rurals without massive investment in wired broadband.


Re: Eat the dog food

Broadband satellite is an inadequate substitute for fixed broadband. Even the latest FCC Broadband report admits to that, even though satellite would paper over the broadband divide. Maybe, someday, it will get to 25/3 or better, and sub-30 ms latency and pricing in line with fixed providers.

You did notice that last week, Verizon announced they were taking $70.1 M from New York State, $12 M from CAF (!!) and chipping in $23.8 to pass 15 k premises in Upstate New York?


Re: Eat the dog food

You mean the folks that never met an ag subsidy they didn't like?

Government hand-outs for me but not for thee.

Re: Eat the dog food



So, just FYI satellite broadband is just about everywhere. So we are really talking about 2nd and 3rd providers.

To me the real deal is that if we are going to subsidize rural broadband we need to change the social contract with it. Turn those areas back into a utility. Otherwise they are not getting an upgrade. I don't care how much you lay out in funds, it is not worth it for a large provider.

seven



Re: Eat the dog food

All of this sounds good, except when you factor in that the people who would benefit from these programs overwhelmingly vote for representatives that espouse the exact opposite of governmental activism. And many of those people would and do argue that the less the government is involved in ensuring that human needs are met, the better. Hence the title of this thread.


Re: Eat the dog food

Health care is not a human

right

, either. Human rights are political rights. It's wrong to conflate them with human

needs

. They are different. That doesn't relieve government of the duty to ensure that every resident's human needs are being met.

People living in rural areas have just as much need for good broadband access as suburban and urban folks. Arguably, more. It's not just about streaming Netflix in 4k. Connected farms, e-commerce, telehealth, telemedicine and distance learning demonstratably improve productivity and well-being to rural communities. Broadband is no more optional than electricity, roads and POTS (in the day).