Federal Funds for Broadband? Unlikely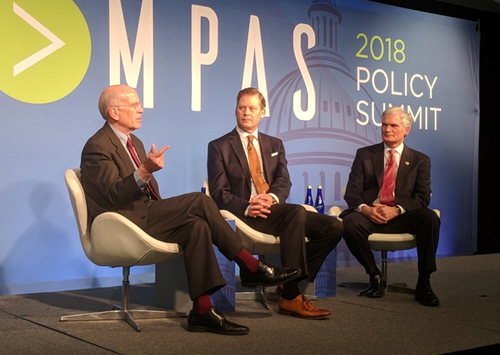 (21) |




Re: Eat the dog food

@Phil: I believe it. There was a recent headline out of Detroit of a passenger dying after the driver hit a pothole that was large enough to cause him to lose control of the vehicle and get in an accident.

We have our share of trouble-causing potholes out here, too.


Phil_Britt,

User Rank: Light Sabre
2/27/2018 | 1:20:09 AM
Re: Eat the dog food

Joe,

You're right about the North. I'm in the Chicago area. Thirty years ago I wrote about the issue, first when covering transportation, then when covering steel. Bridges are in horrible shape in many areas of the country, including many south of the Mason-Dixon line.

Re: Eat the dog food

@Phil: It's worst in the north where the winters are harshest.

Being a New Englander, it has frustrated me to see the same fine stretches of road reworked (even if there's nothing wrong with them) summer after summer, while far more treacherous roads are lucky to get once in a while patchwork if they are even attended to at all.


Phil_Britt,

User Rank: Light Sabre
2/26/2018 | 8:35:04 AM
Re: Eat the dog food

There needs to be a push for roads and bridges. I was writing about the failing infrastructure 30 years ago, nothing has changed except that everything has gotten older and more in need of repair/replacement.

Re: Eat the dog food

Ultimately it will the the lobbyists and their pursuasion that may determine where infrastructure money ends up. Of course the big push has been or roads and bridges, and our "builder" President surely has made his wishes known. But on the other hand Congress may in the end decide of spreading the money out in lots of different ways not just sticking to the transportation end.


Phil_Britt,

User Rank: Light Sabre
2/19/2018 | 1:25:46 PM
Re: Eat the dog food

While satellite broadband could be an infrastucture investment, old infrastructure like roads, bridges, water mains, etc., should be prioritized. Nowhere near enough investment has gone into these in more than 30 years.

Re: Eat the dog food

Dennis,



I heard those low orbit satellites will be feeding balloons from Google that are in turn connecting to Amazon Drones.

seven



Re: Eat the dog food

Iridium was a fine program. John McCain told me so. And Mr. Pai will back this initiative heartily as part of Make America Infrastructure Again. And all the Star Trekkers will love it because Elon Musk. Problem solved.


Re: Eat the dog food

Maybe.

I was up close and personal with the Iridium program. Need I say more?

Re: Eat the dog food

It looks like spaceboy Elon Musk is going to make a run at the LEO communications satellite thing. So maybe there will be better (or at least other) options for the rurals without massive investment in wired broadband.