Network Intelligence Key to the Best of Times

3/22/2018

Comment (0)

In announcing, at the recent Ultra BroadBand Forum (UBBF), Huawei's commitment to build the All-Intelligent Network, the company's President of Products and Solutions, David Wang, drew inspiration from a most unexpected source -- Charles Dickens.
Speaking in Hangzhou, China, Wang outlined how, in many ways, we were entering 'the best of times' -- he particularly highlighted some 50 million new users of IPTV in China, that more than 1 million Chinese businesses were embracing and moving services to the cloud, and that 11 US cities had already committed to pre-commercial launch of 5G networks.
But Wang was realistic as well, and said that even as the potential for technology and communications continues to grow, for many people these are also 'the worst of times.' Fiber roll-out is slow, broadband penetration in many countries remains very low, and far too many households on the planet remain essentially unconnected.
He argued that traditional networks are simply not able to cope with the pace of growth required, and that they lack both the agility and the speed to adjust and respond to modern demands. At the same time, he explained, business users face ever-changing market conditions and uncertainties, and even the application of the new technology itself becomes a threat to old business models.
Committing to help carriers, and their customers, address these difficulties, Wang outlined Huawei's plans to deliver an All-Intelligent Network founded on superfast ultra-broadband networks.
"Our network for the future will help carriers address the challenges they face today, as well as enable them to achieve new growth in key markets," he said. "It is designed with three key characteristics at its heart: It is intelligent, simple and superfast."
The word intelligent has often been used to describe future networks, so Wang took some time to define exactly how Huawei was building true intelligence into its new network.
"The network's intelligence is delivered in three stages," he explained. "It takes a combination of automatic, adaptive and autonomous processes to deliver intelligent business operations and simplified network operations and maintenance. In this context, automatic means the ability to automatically provision services and to automate both network deployment and maintenance. It is the first step in the process to build an intelligent network."
Wang described how by integrating network managers and controllers, the All-Intelligent Network would be able to truly merge and connect new SDN networks with traditional telecommunications infrastructure. This automation would enable one-click services and end-to-end automatic service provisioning.
Automation by itself was only the first step though. The Adaptive element of the All-Intelligent Network is derived from built-in intelligent analyzers that would collect real-time network data and constantly report on its status. Based on that data, the All-Intelligent Network would automatically generate and optimize policies based on service and network SLAs enabling those networks to move from open-loop configuration to closed-loop optimization.
Completing this transition to true intelligent network behavior, Wang described how the network automation and adaption would be enhanced by the use of artificial intelligence and machine learning to deliver truly autonomous network self-learning.
"The All-Intelligent Network," Wang explained, "will not simply automatically follow programmed static policies to improve network performance -- it will dynamically learn new policies to achieve full autonomy and deliver outstanding reliability and connectivity."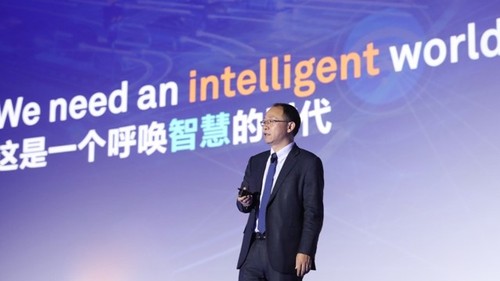 Moving on from explaining the building blocks of the network's intelligent characteristics, Wang emphasized that the simplicity that Huawei was seeking to deliver was derived from decoupling the network into two layers -- an elastic and reliable transport layer, and a flexible and agile service layer. This approach optimizes traditionally siloed network telecoms architecture by leveraging concepts from IT networks to create an environment where network resources can be configured, adjusted and delivered to suit changing demands.
"This approach makes network O&M so much easier," said Wang. "By reducing the number of layers, we enable one-hop access to any application, help carriers reduce network latency, flatten the topology and improve the overall experience."
Underpinning the All-Intelligent Network is Huawei's recognition of the need for speed, and Wang outlined a vision of a truly superfast broadband connection. He said Huawei was redefining ultra-broadband to take in ultra-low latency, ultra-high bandwidth and a massive number of connections for an IoT environment. He predicted the All-Intelligent Network would reduce latency from 30ms down to a mere 5ms, thereby enabling countless new cloud and IoT applications.
"The All-Intelligent Network is a key focus of our investment and innovation in future networks," Wang concluded. "It will help carriers seize the strategic opportunities in video, enterprise cloud adoption and 5G networks to unleash the full power of ultra-broadband."
Of course, when Dickens wrote about the best of times and the worst of times, he was describing an uncertain future. At the UBBF, there was only positivity, and nothing uncertain about the future network vision David Wang described.
This blog is sponsored by Huawei.

(0) |